Introduction
The Hospital Authority (HA) is all along very concerned about the doctor manpower situation and has exerted continuous efforts and various measures to retain and attract doctors so as to support service needs and relieve the workload of frontline doctors. Apart from the recruitment of all qualified locally trained medical graduates and candidates who have successfully passed the Licensing Examination of the Medical Council of Hong Kong (MCHK), HA is also recruiting non-locally trained doctors under limited registration. For details on limited registration, please visit the MCHK's website:
http://www.mchk.org.hk/e_index.html
.
About Us
HA is a statutory body established in Hong Kong in 1990. We are responsible for managing all public hospitals and related services in Hong Kong. We manage 43 hospitals and institutions, 49 Specialist Out-patient Clinics (SOPCs), and 73 General Out-patient Clinics (GOPCs). Today, we have a workforce of about 80,000 and some 28,900 beds.
Opportunity
We are now recruiting non-locally trained doctors under the Limited Registration scheme to serve as Residents and Associate Consultants in our public hospitals. The recruited non-locally trained doctors will:
work as a member of our professional teams committed to quality patient care
gain working and training experience in a range of medical specialties in public hospitals of Hong Kong
get a better salary while paying a low income tax in Hong Kong
This new recruitment programme will facilitate your plan on pursuing a medical career in Hong Kong.
Employment Package
Monthly salary with annual increment:

The salary will be commensurate with relevant experience and qualification of the selected candidates and subject to currency fluctuation.

Other terms and benefits include:
Support your application to the MCHK for practice under limited registration
Comprehensive and free medical coverage
15% contract-end gratuity upon satisfactory completion of contract
25 days annual leave per annum
Coverage of professional indemnity, legal assistance, employees' compensation of HA and disciplinary protection insurance
A one-off "Relocation Allowance" of HK$40,000 (~A$7,775 or £3,978) on a reimbursement basis for Associate Consultants
A flexible and renewable contract term up to three years will be offered subject to mutual agreement, consistent good performance and approval of limited registration by MCHK.
We shall help you get here and settle in. A continuous learning environment will be provided.
Appointed candidates will be subject to central posting. You may be required to work shifts and irregular hours as well as perform on-call duties in public hospitals.
Requirements
Resident
(For All Specialties)
Attained a qualification comparable to the Intermediate (or Pre-Intermediate*) Examinations of constituent Colleges of the Hong Kong Academy of Medicine
Possessed relevant clinical experience as post-internship registered medical practitioner and enrolled in specialist training programme recognized by constituent Colleges of the Hong Kong Academy of Medicine
Proficiency in English
Proficiency in Cantonese (except for Anaesthesia, Pathology and Radiology)
*
For Emergency Medicine, Family Medicine, Internal Medicine and Paediatrics
, applicants with pre-intermediate level qualifications would be considered
Associate Consultant
(For Anaesthesia, Anatomical Pathology, Obstetrics & Gynaecology, Ophthalmology, Otorhinolaryngology, Radiology, Nuclear Medicine, Cardiothoracic Surgery, Neurosurgery and Plastic Surgery)
Possess full registration with an approved medical authority outside Hong Kong
Certified or registered as a specialist or equivalent, in relevant specialty in the country of practising Medicine. The certification or registration system for the specialist status should be a nationally or officially recognised system.
Proficiency in English
Proficiency in Cantonese (except for Anaesthesia, Pathology and Radiology)
Recruitment Process for Non-locally Trained Doctors under Limited Registration Scheme in HA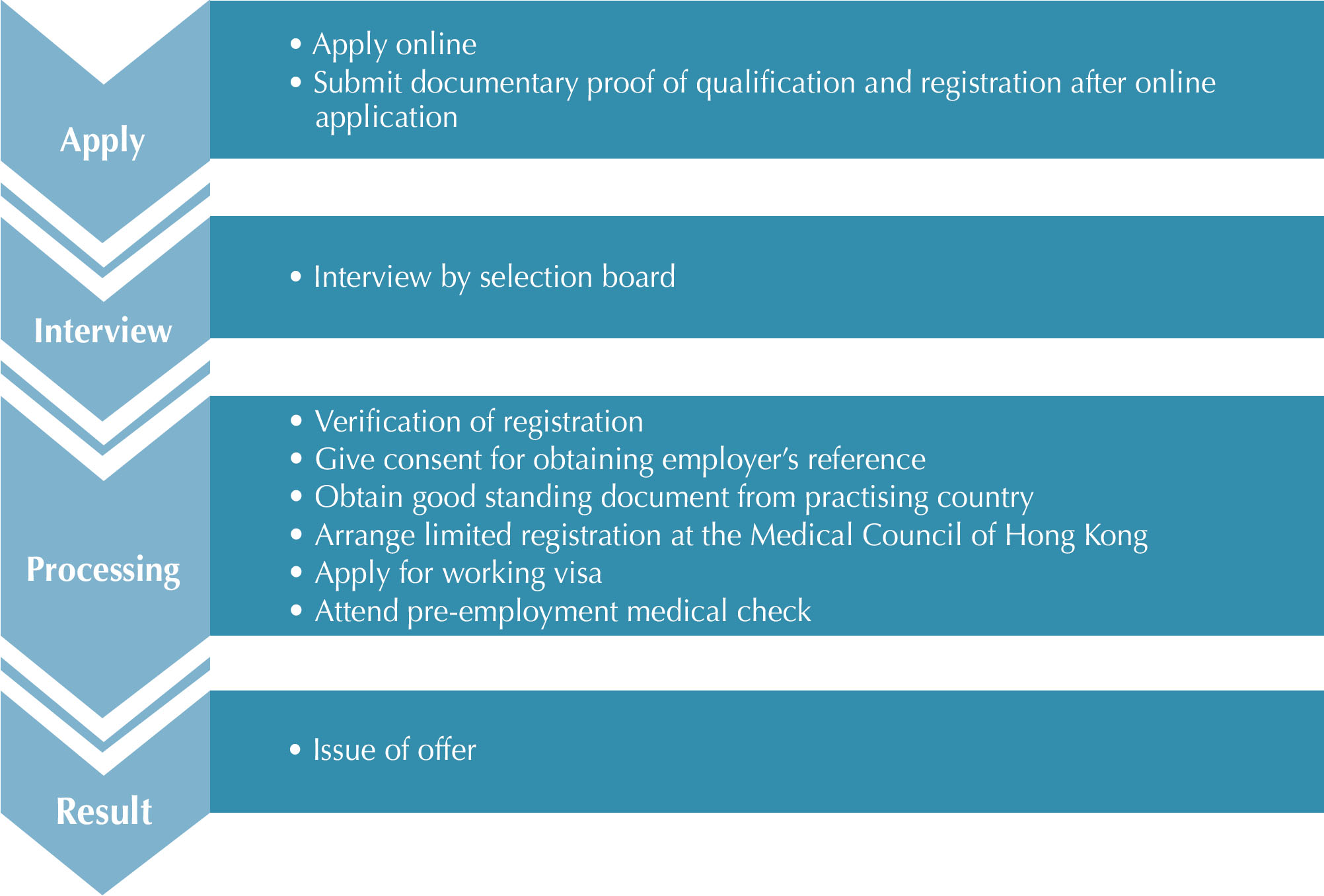 Online Application
Recent Events
Limited Registration: What are the Options? – co-organized with The Hong Kong Medical Society of the United Kingdom
(10 April 2021) (Web Conference)



Photos




Stepping Stones to Your Future in Hong Kong - Registration Pathways and Training – co-organized with The Hong Kong Medical Society of Australia
(11 July 2020) (Web Conference)



Photos




HKMLE - All Roads lead to Hong Kong – co-organized with The Hong Kong Medical Society of the United Kingdom
(21 March 2020) (Web Conference)



Photos




Gathering with Hong Kong Community and Healthcare Professionals in "Secretary of Food & Health 's Visit to Australia"
(16 & 18 September 2019 in Melbourne & Sydney, Australia)


Photos




Homecoming: Working and Training Opportunities in Hong Kong – co-organized with The Hong Kong Medical Society of the United Kingdom
(10 August 2019)


Photos




Sharing Session for Non-locally Trained Doctors under the Limited Registration Recruitment Scheme in HA
(5 July 2019)


Photos




Talk on Opportunities for Overseas Doctors in Hong Kong
(26 September 2018 in London, United Kingdom)
Photos


Pathways for Non-locally Trained Doctors to Pursue Medical Career in Hospital Authority, Hong Kong (for reference)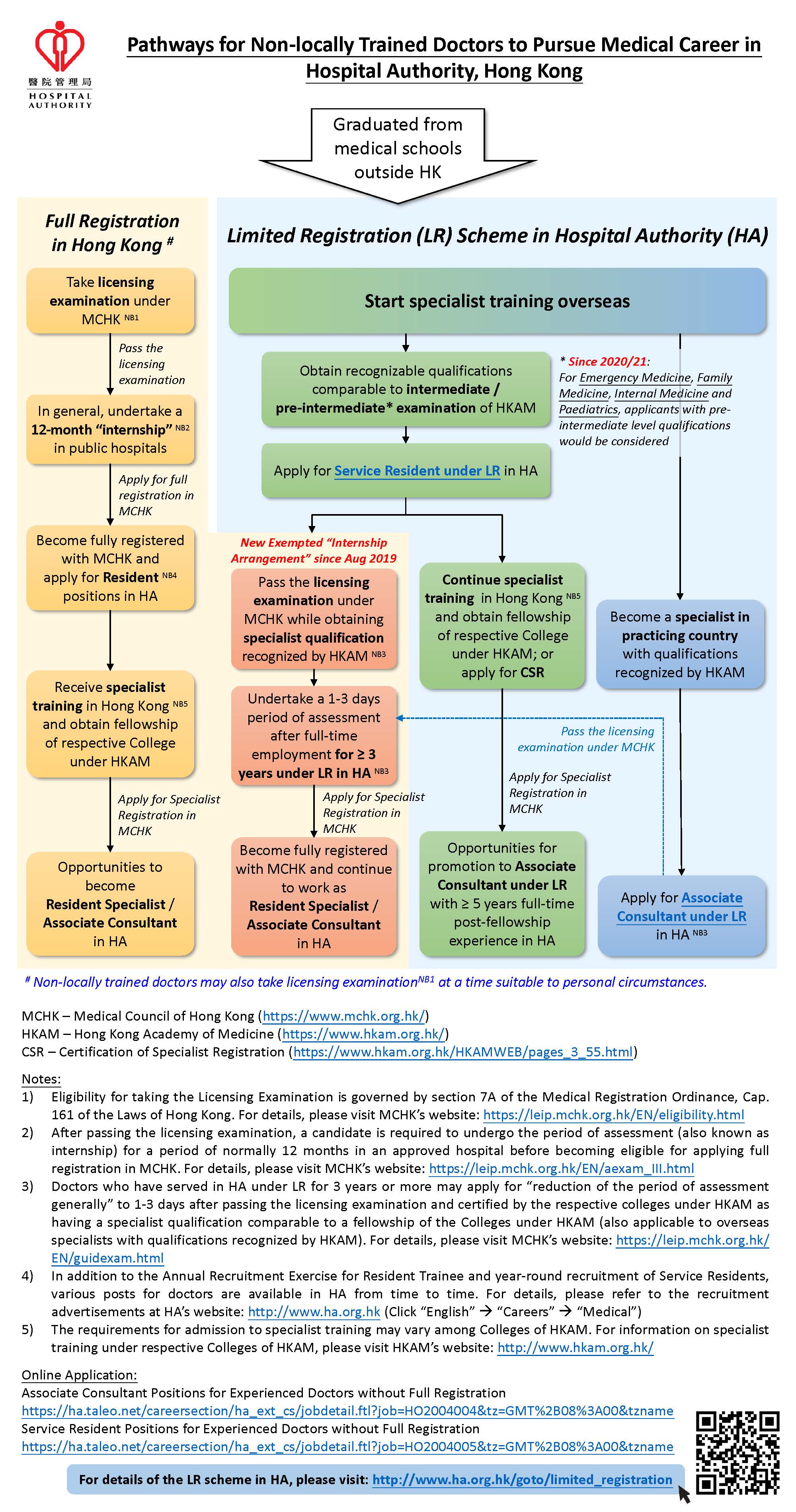 Video of Sharing by the Limited Registration Doctors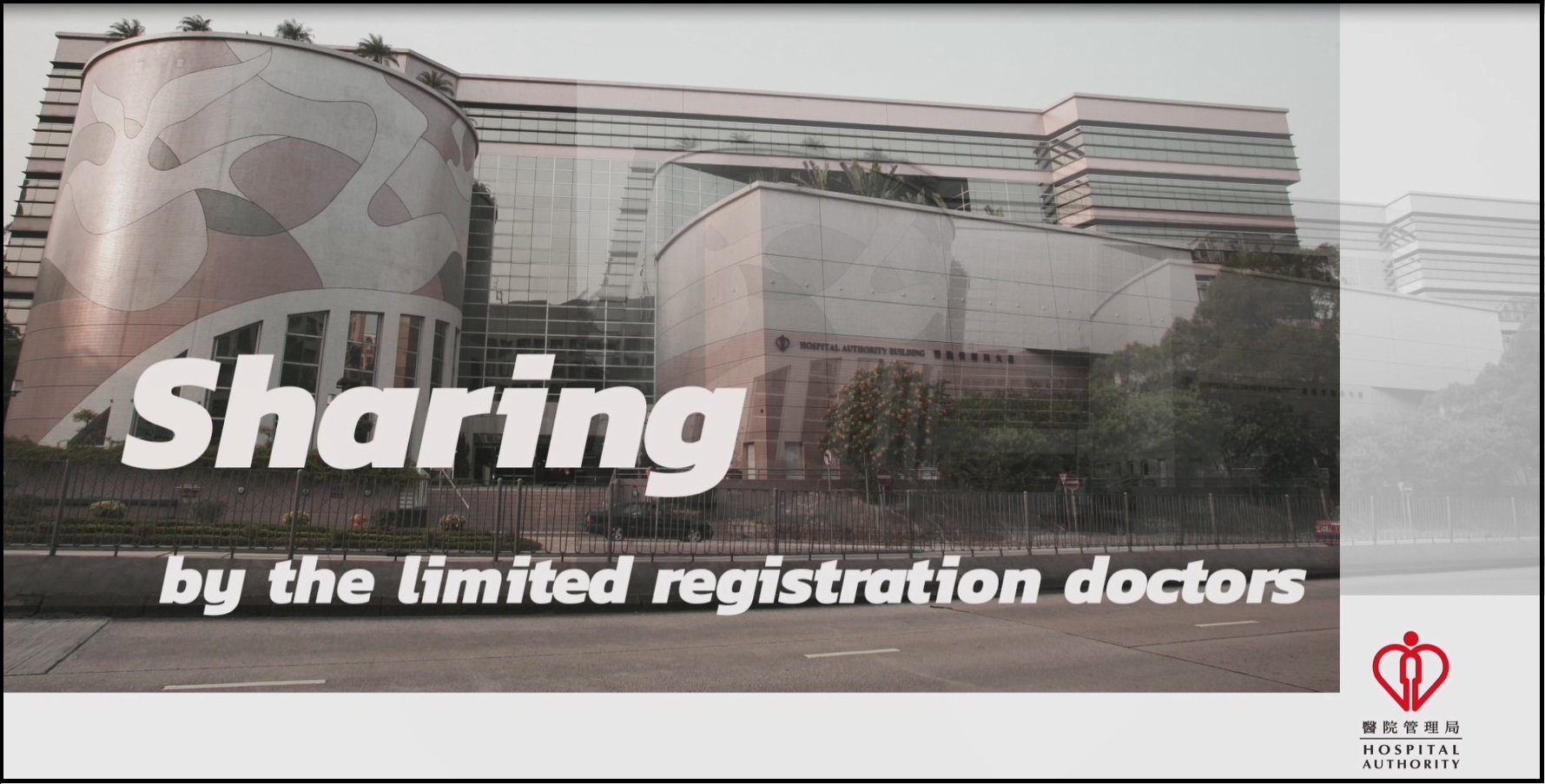 HASLink (March 2019 Issue) – Job Opportunity for Non-locally Trained Doctors

Useful Links
You may visit the MCHK's website to know more about limited registration in Hong Kong: http://www.mchk.org.hk/e_index.html


For details of the Licensing Examination in Hong Kong for attaining full registration for working in Hong Kong and related information on the exemption, reduction and deferment of period of assessment, you may visit the Licensing Examination Information Portal of MCHK: http://leip.mchk.org.hk/EN/index.html


For information on specialist training under respective Colleges of the Hong Kong Academy of Medicine (HKAM), you may visit HKAM's website: http://www.hkam.org.hk/HKAMWEB/
Enquiries:
Please call +852 2300 6359 or email to
recruitment@ha.org.hk