Post Approval Checking Mechanism
Post Approval Checking Mechanism
In the application of Community Care Fund Medical Assistance Programmes, applicants are required to provide complete, accurate, true and up-to-date information to Medical Social Workers for assessment and verification. In order to maintain the integrity of the medical fee assistance systems and protect the systems from being abused, the Hospital Authority established Investigation Section (Fee Assistance Application) in March 2007 (renamed as Medical Fee Assistance Section in 2008) for the purposes of:
preventing and detecting the occurrence of fraud and abuse of medical fee assistances
taking appropriate action against suspect who commits deception relating offence
To accomplish the purposes, a Post Approval Checking Mechanism has been put in place at hospital clusters and the Hospital Authority Head Office to conduct:
in-depth investigation on suspected fraud cases of medical fee assistances
regular checks of approved cases selected on a random basis
checking of cases with high risk factors for fraud and abuse
data matching within Hospital Authority, with Government Departments, banks, employers and other parties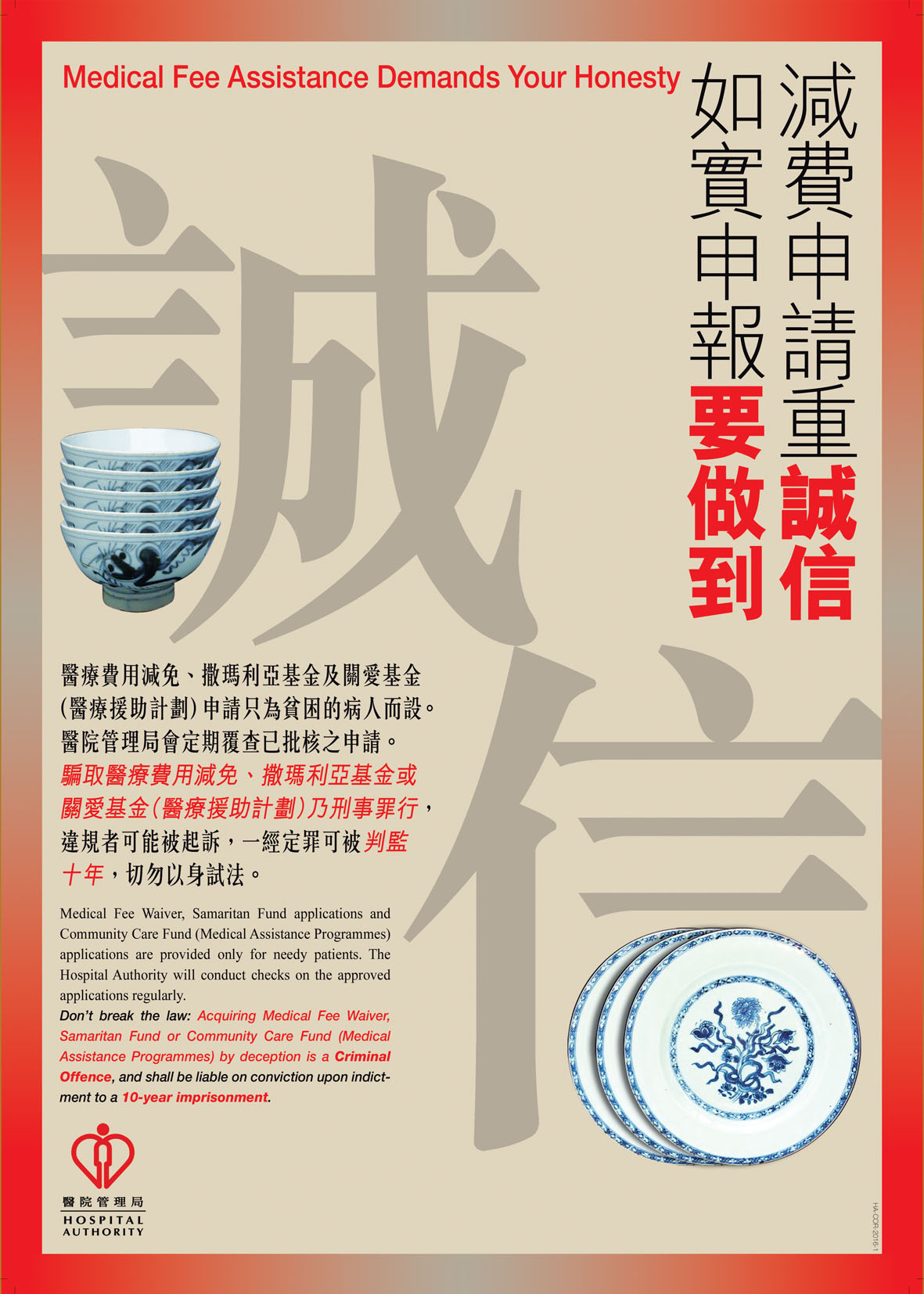 Medical fee assistance demands your honesty
Medical Fee Waiving, Samaritan Fund and the Community Care Fund Medical Assistance Programmes are provided only for needy patients. The Checking Units of the Hospital Authority conduct checks on the approved applications regularly. The patient/applicant and household member(s) must provide complete, accurate, true and up-to-date information and have to report to the HA/Social Welfare Department any changes in the particulars in the application within the validity period of the financial assistance.
Do not break the law
Acquiring subsidy under Community Care Fund Medical Assistance Programmes by deception is a Criminal Offence. In addition to the consequence of being ineligible for the Community Care Fund Assistance, the patient / the applicant / the patient's household member(s) shall be liable on conviction upon indictment to imprisonment of
10 years
under the
Theft Ordinance
(Chapter 210 of the Laws of Hong Kong).